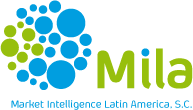 2012 Market Intelligence Latin America S.C.
ALLIANCES
MILA has developed a consulting network through alliances with highly capable and recognized firms in various Latin American countries, local presence and relations are essential to facilitate cost-effective business and government relations in the region. When engaging in regional projects MILA and its partners follow proven methodologies and meet each other quality standards.
MILA has allied consulting firms in Argentina, Brazil, Chile, Colombia and Perú, all experienced in assisting international companies in doing business in their home markets.